Ex·pec·to·rate, or Why I Spit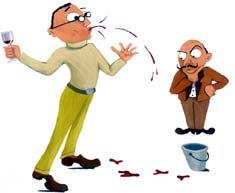 ex-pec-to-rate
v.
To eject from the mouth by spitting.


Sorry for the radio silence. I've been building a wine list and have spent the last few weeks in a semi-permanent haze from the fumes of three hundred or so wines I've been sniffing, swirling, sipping and spitting out. That's right, I said "spitting out."
I freely admit that I spit.
Even so, some percentage of alcohol is still absorbed through the mouth walls. I've heard ten percent. Especially when you gargle something bad-ass (the "absorption" rate grows the better the wine). I can only imagine the rate of absorption for
first-growths
.
That ten percent haze you feel after drinking, say, eighty wines is comparable to the feeling of waking up sans hangover after a hard night of drinking. You feel a slight body numbness and react slowly and clumsily; you forget what you've just said and then remember what you were thinking right before you forgot what you said.
What was I saying? Forget about it. Another Pommard "mouth rinse," please.
Nevertheless, spitting is important. Otherwise, you'd be straight hammered and that wine you thought had the subtle taste of soap and some unknown bacteria might seem a little more pleasant while you're slurping down the bunch.
I know what you're thinking: Can you taste the wine if you don't swallow?
Think about it. There are no taste buds in your throat and stomach. Actually, most of what you taste is in your upper nasal cavity anyway. You smell it. On your tongue there are only four tastes (although the Japanese say there's a fifth as well,
umami
).
With that said, you could probably get most of the information you need about a wine from sight and smell alone, but mouth feel and the wine's "leave" are also important for pairing and overall evaluation. So you swish it around a bit.
I think I feel the "haze" wearing off. Time to start building my whiskey list.